Free leaflets and brochures
to download :

VISITOR GUIDE
2022

Guide Touristique 2022 FR / GB
"Le Pays de Domfront"

It is THE brochure to guide you through the area : places to visit, food to taste, places to stay, to eat etc...

GREEN TRACK DOCUMENT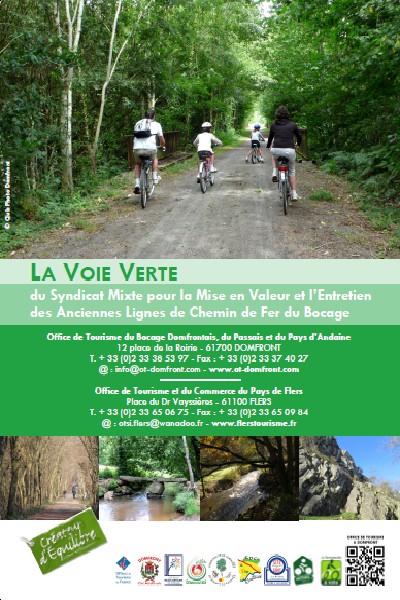 Guide Pratique FR / GB
"La Voie Verte du Syndicat Mixte pour la Mise en Valeur et l'Entretien des Anciennes Lignes de Chemin de Fer du Bocage"
It has never been easier to cycle round Domfront to Flers or to le Mont St Michel, with that leaflet presenting the map of Voie Verte or "green track", the old rail-way track which has been resurfaced to enjoy activities such as walking, cycling and horse riding.

THE MAP OF THE PARK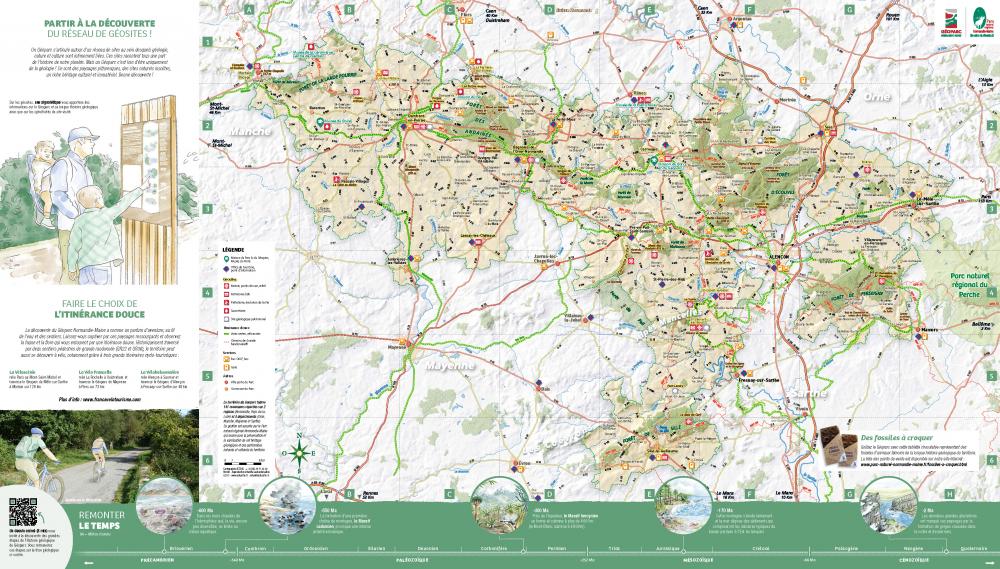 2022 edition


The whole Domfront area is situated in a natural regional park called Normandie Maine Géoparc.
With this map, situated yourself in time and space !


DOMFRONT CITY MAP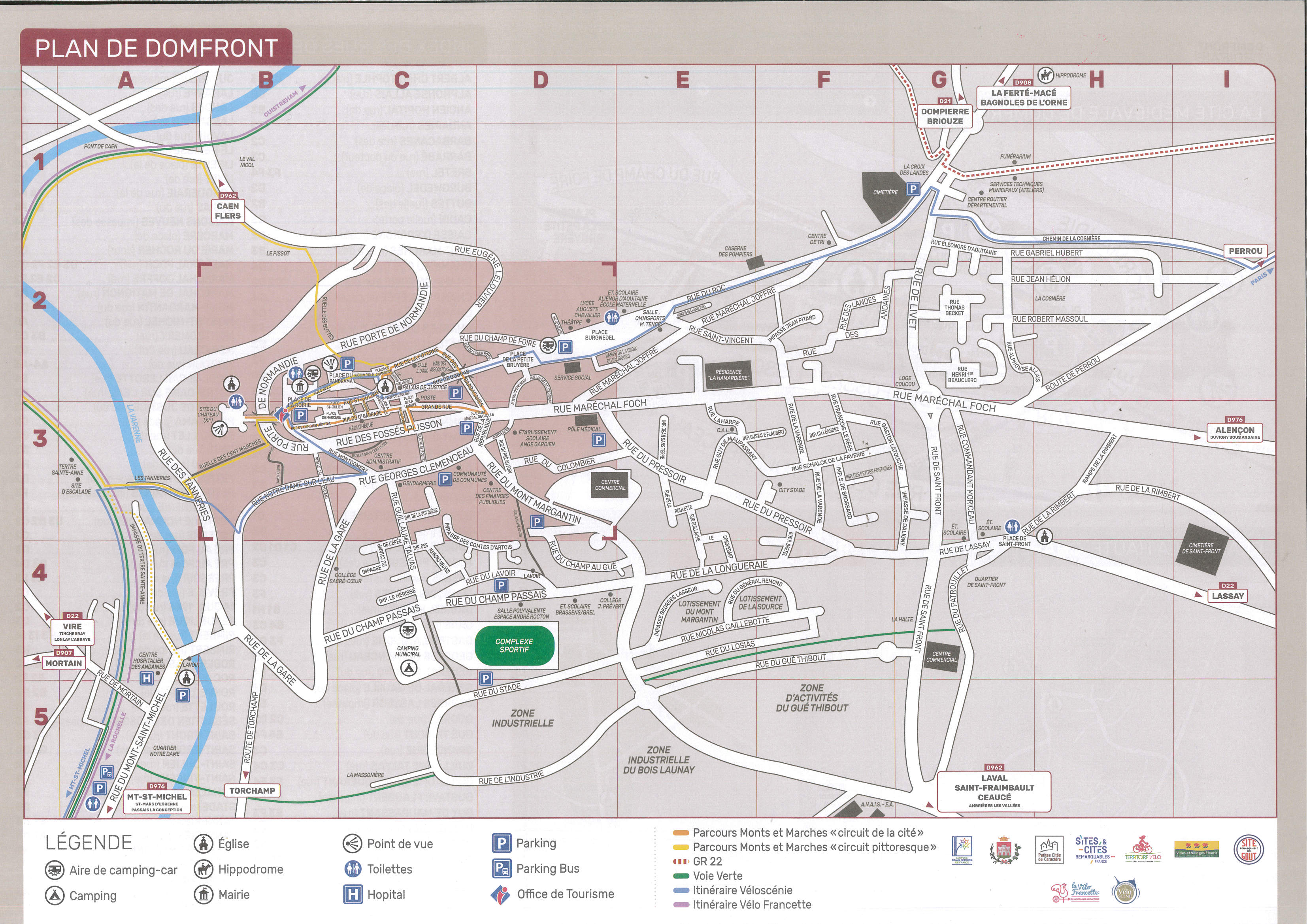 Domfront en Poiraie city map


A 2021 edition of Domfront, Rouellé and La Haute Chapelle map + the old Domfront.


L'ORNE A VELO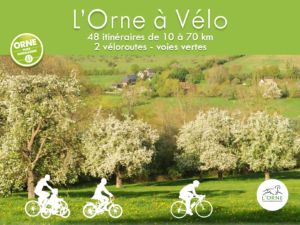 Cycling guide with 48 loops from 10 to 70 km in all Orne Département to discover the area.
> Download it here.

LEAFLET CASTLE OF DOMFRONT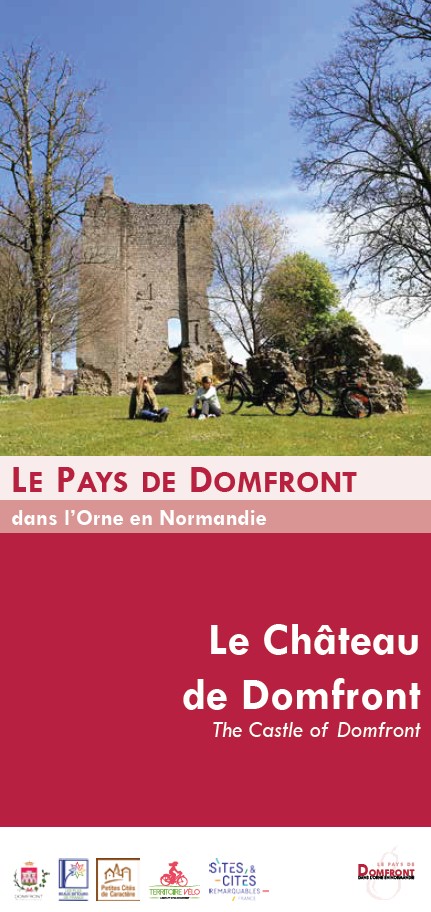 Leaflet to Visite FR / GB
"The Castle of Domfront"
Get to know all the secrets of Domfront castle thanks to that leaflet! The history, the keep, the aula, the chapel and the remparts are detailed in it.

LEAFLET DOMFRONT MEDIEVAL CITY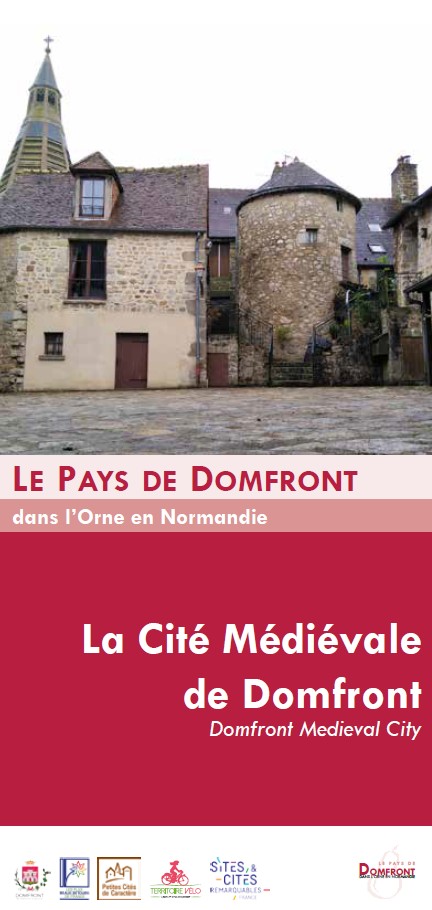 Leaflet to Visit FR / GB
"Domfront Medieval City"
Wander round the city thanks to a map, numbered points and the correspondant commentaries. It is the best way not to miss the towers, the walls, the inner courtyards or the beautiful timber-framed houses of the medieval city.

LEAFLET NOTRE-DAME-SUR-L'EAU CHURCH IN DOMFRONT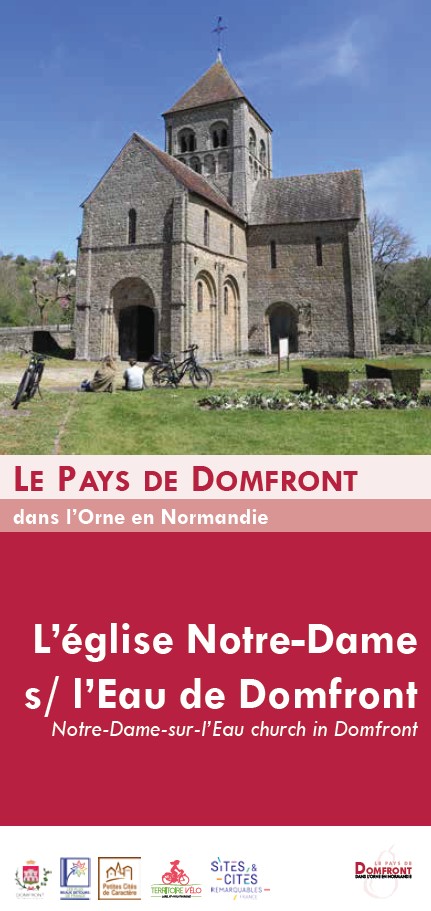 Leaflet to Visit FR / GB
"Notre-Dame-sur-l'Eau church in Domfront"
A jem of Norman and Romanesque art awaits you. The leaflet will help you point out the architectural elements of the first church listed Historical Monument in the Orne Département!

LEAFLET SAINT-JULIEN CHURCH IN DOMFRONT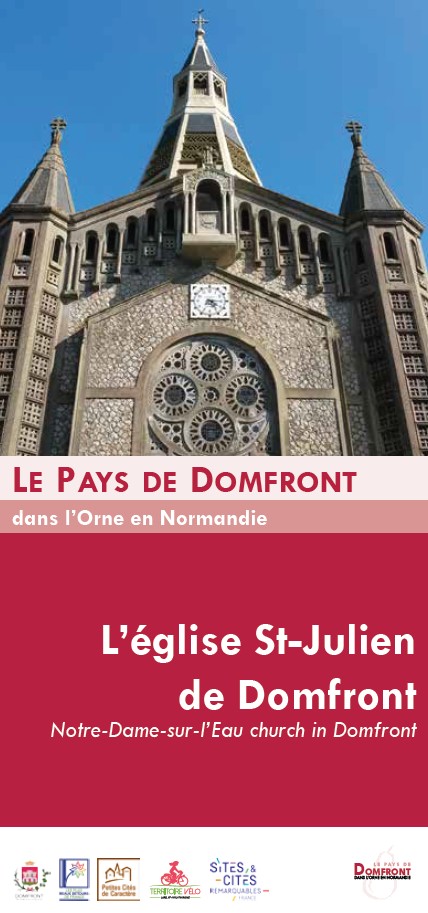 Leaflet to Visit FR / GB
"Saint-Julien church in Domfront"
St Julien church is now reopened to the public. Get to know why Domfront had a reinforced concrete built chuch in 1924 in the leaflet!

LEAFLET SAINT FRAIMBAULT FLOWERED VILLAGE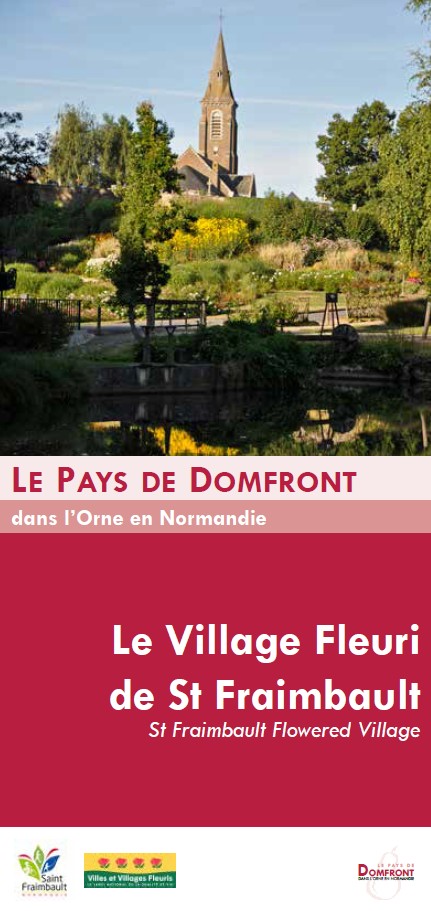 Leaflet to visit FR / GB
"Saint Fraimbault flowered village"
A leaflet to explore the flowered areas in this typical norman village.

LEAFLET NOTRE-DAME ABBEY CHURCH IN LONLAY L'ABBAYE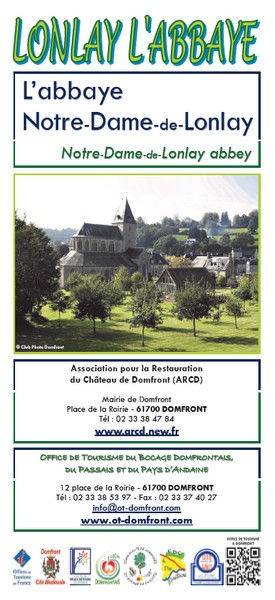 Document de Découverte FR / GB
"L'Abbaye Notre-Dame de Lonlay l'Abbaye"
Around 1010, William of Bellême fonded an abbey. The leaflet is a visit to the abbey church still standing, from the XIth to the XVIth century.

LEAFLETS NOTRE-DAME DE L'ORATOIRE CHAPELS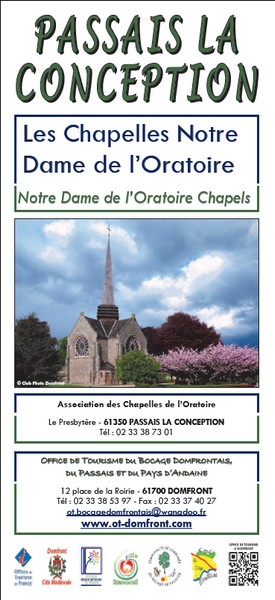 Document de Découverte FR / GB
"Les Chapelles de l'Oratoire de Passais la Conception"
Visit the Oratoire Chapels in Passais la Conception, built after miraculous healings and payers to the Virgin Mary.

LEAFLET MEGALITHS IN PAYS DE DOMFRONT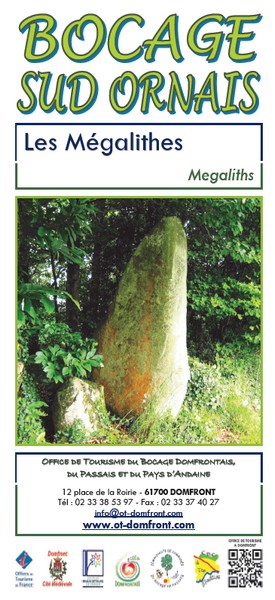 Document de Découverte FR / GB
"Les Mégalithes du Bocage-Sud-Ornais"
General information and a map to situate our megaliths which access is allowed. Standing stones, dolmens, long barrows, they all are here.

LEAFLET ROCK CLIMBIN IN PAYS DE DOMFRONT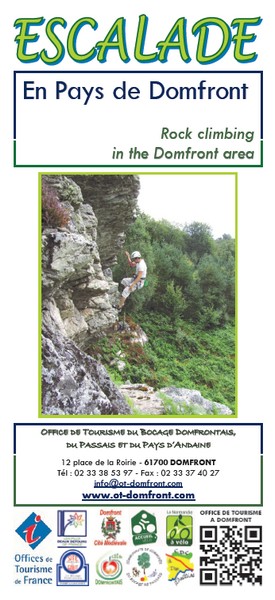 Guide Pratique FR / GB
"L'Escalade en Pays de Domfront"
3 sites in the area to practice your rock-climbing : La Cluse in the Domfront gap (70 routes), La Fosse Arthour in St Georges de Rouelley (170 routes) and La Roche aux Dames and La Roche aux Loups (45 routes and a block) in the Andaine Forest. The leaflets gives the level of the routes and the equipment needed.

LEAFLET WEEKLY MARCKETS IN NORMANDY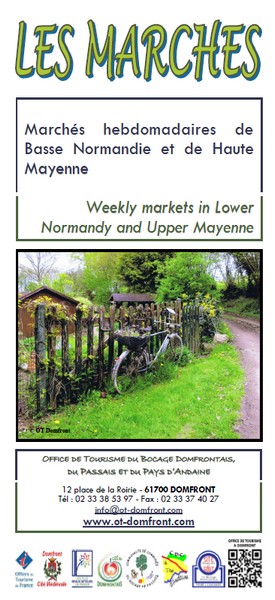 Guide Pratique FR / GB
"Les Marchés Hebdomadaires en Basse Normandie
et en Haute Mayenne"
A list per département and per day for weekly markets in Lower Normandie and top Mayenne.