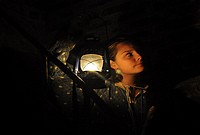 Alix cannot remember Domfront history !
What is the use of the keep ?
When was the gallery built?
Why was the site demolished?

Kids under 10 years old
are invited to follow Alix
in her investigations
to finally understand what happened !

In 2021 :
From 14 April to 7 May (Easter Hollidays)
From 2 July to 27 August
Every Wednesdays and Fridays at 3.30pm
Useful information :
For under 10 years-old, accompanied or not.
French only
2.50€ per person
Starting at the Tourist Office in Domfront
On booking, maximum 5 people